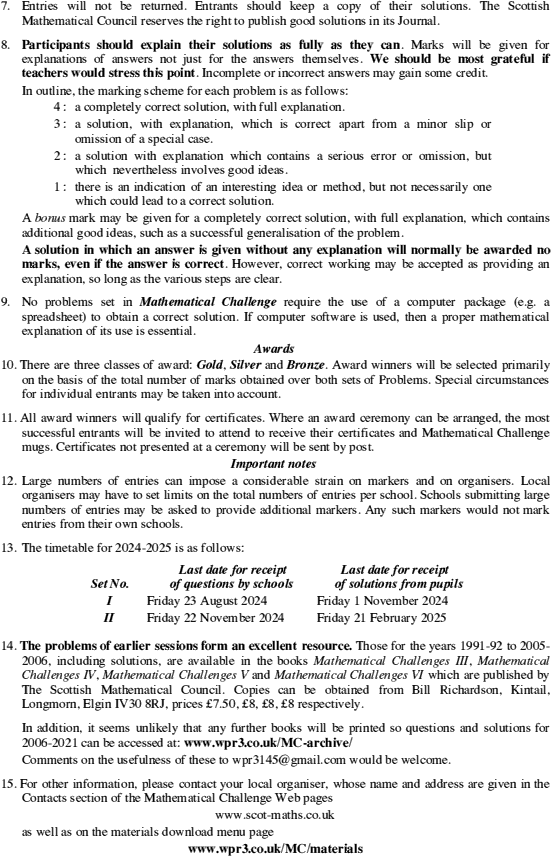 The Scottish Mathematical Council
MC homepage: www.scot-maths.co.uk/
The Scottish Mathematical Council
MC homepage: www.scot-maths.co.uk/
MATHEMATICAL CHALLENGE 2018−2019
A national problem solving competition for schools in Scotland
S E C O N D A R Y D I V I S I O N S
GUIDELINES FOR TEACHERS
1. Mathematical Challenge is a problem-solving competition which goes back to 1976. The Challenge is open to all students educated in Scotland. Its aim is to promote mathematics as a source of interest and pleasurable achievement through challenging problems which require only elementary techniques and simple logic.
Please ensure that all teachers involved in the competition see these Guidelines.
How Mathematical Challenge operates
2. There are four divisions: JUNIOR for Sl and S2, MIDDLE for S3 and S4, SENIOR for S5 and S6, and PRIMARY (for which a separate circular is available).
Pupils may enter only one division and must specify that division on their first entry.
Please contact your local organiser, whose name and address are on the proforma on page 2 of each problem sheet and in the Contacts section of the Web pages, if there is any doubt about divisions, or if further information is required.
3. There are no written examinations. For the Junior, Middle and Senior Divisions, two sets of five problems each will be available for schools to download according to a timetable outlined in §13 below. Problems for different divisions will be on separate sheets. Some problems may be common to different divisions. The problems will also be available from the Mathematical Challenge Web pages (see above for address).
4. A registration fee is required from participating schools. For a secondary school the fee is £16 for the first 10 entrants and half this amount for each subsequent batch of 10 entrants or part thereof. A fee form is included with the downloadable pack of materials.
For individual participants NOT entering through a school, the fee is £8.
Entries and Marking
5. Entries must be the unaided efforts of individual pupils. Group working is not appropriate in Mathematical Challenge. Contestants may consult books or the internet for information on facts or on how to tackle problems. Whilst teachers or parents may give guidance on interpretation of wording, they should not be involved in the solution of a problem. Furthermore, the work should not interfere with normal teaching and in no circumstances should it be a class assignment.
6. All Sections must use the software package to assist in the processing of the results. A Record of Entries must be made electronically by the school, or it will not be possible to process the results.
Go to the marks website: https://www.scottishmathschallenge.org.uk/
Choose "School Login" and enter your login details or "Register here" to set up a new account.
When you have logged in, go to "Add/Edit Entrants" _ enter the names and school year of each entrant.
The marks will eventually appear on the "Marks page".
Messages from the organiser may also appear there on the first page from time to time.
Use a paper copy of the 'Printable version of details and entrants' from the marks website as a cover sheet for the school's entries. This contains the school details and the alphabetical list of entrants in each section, as entered on the website. All entries submitted will be marked even if earlier problem sets are missed.
7. Entries will not be returned. Entrants should keep a copy of their solutions. The Scottish Mathematical Council reserves the right to publish good solutions in its Journal.
8. Participants should explain their solutions as fully as they can. Marks will be given for explanations of answers not just for the answers themselves. We should be most grateful if teachers would stress this point. Incomplete or incorrect answers may gain some credit.
In outline, the marking scheme for each problem is as follows:
4 : a completely correct solution, with full explanation.
3 : a solution, with explanation, which is correct apart from a minor slip or omission of a special case.
2 : a solution with explanation which contains a serious error or omission, but which nevertheless involves good ideas
1 : there is an indication of an interesting idea or method, but not necessarily one which could lead to a correct solution.
A bonus mark may be given for a completely correct solution, with full explanation, which contains additional good ideas, such as a successful generalisation of the problem.
A solution in which an answer is given without any explanation will normally be awarded no marks, even if the answer is correct. However, correct working may be accepted as providing an explanation, so long as the various steps are clear.
9. No problems set in Mathematical Challenge require the use of a computer package (e.g. a spreadsheet) to obtain a correct solution. If computer software is used, then a proper mathematical explanation of its use is essential.
Awards
10. There are three classes of award: Gold, Silver and Bronze. Award winners will be selected primarily on the basis of the total number of marks obtained over both sets of Problems. Special circumstances for individual entrants may be taken into account.
11. All award winners will qualify for certificates. Where an award ceremony can be arranged, the most successful entrants will be invited to attend to receive their certificates and Mathematical Challenge mugs. Certificates not presented at a ceremony will be sent by post.
Important notes
12. Large numbers of entries can impose a considerable strain on markers and on organisers. Local organisers may have to set limits on the total numbers of entries per school. Schools submitting large numbers of entries may be asked to provide additional markers. Any such markers would not mark entries from their own schools.
13. The timetable for 2018-2019 is as follows:

Set No.
Last date for receipt
of questions by schools
Last date for receipt
of solutions from pupils
I
Friday 24 August 2018
Friday 28 September 2018
II
Friday 23 November 2018
Friday 22 February 2019
14. The problems of earlier sessions form an excellent resource. Those for the years 1991-92 to 2005-2006, including solutions, are available in the books Mathematical Challenges III, Mathematical Challenges IV, Mathematical Challenges V and Mathematical Challenges VI which are published by The Scottish Mathematical Council. Copies can be obtained from Bill Richardson, Kintail, Longmorn, Elgin IV30 8RJ, prices £6, £7.50, £8, £8, £8 respectively.
In addition, it seems unlikely that any further books will be printed so questions and solutions for 2006-2011 can be accessed at: www.wpr3.co.uk/MC-archive/
Comments on the usefulness of these to wpr3145@gmail.com would be welcome.
15. For other information, please contact your local organiser, whose name and address are given in the Contacts section of the Mathematical Challenge Web pages
www.scot-maths.co.uk
as well as on the materials download menu page
www.wpr3.co.uk/MC/materials